Good Pharmaceutical Patent Examination Promotes Access to Medicines
Side Event to the 64th WIPO Assemblies
11 July 2023, WIPO AB Building, Room B, 1 to 2:45 pm
Event details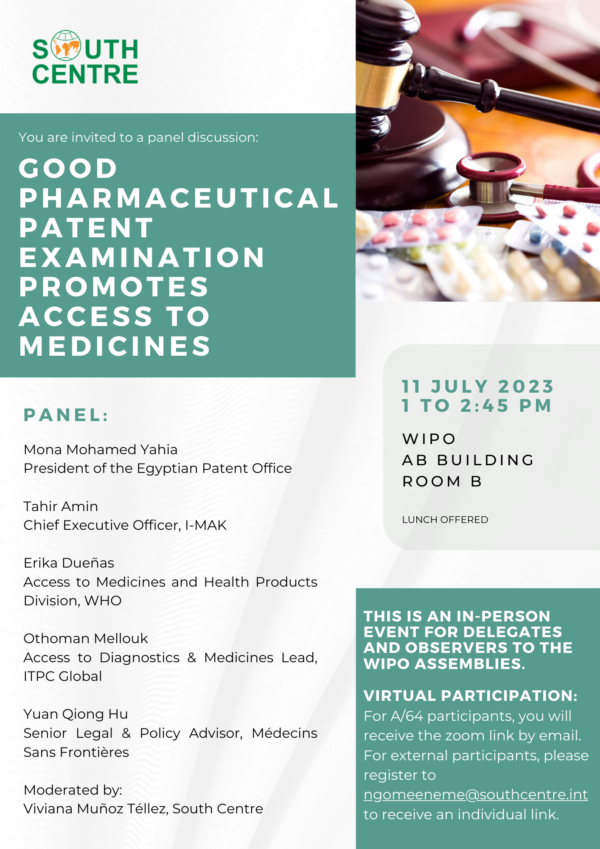 You are invited to a panel discussion:
Good Pharmaceutical Patent Examination Promotes Access to Medicines
11 July 2023, WIPO AB Building, Room B, 1 to 2:45 pm
Lunch offered
Panel:
Mona Mohamed Yahia, President of the Egyptian Patent Office
Tahir Amin, Chief Executive Officer, I-MAK
Erika Dueñas, Access to Medicines and Health Products Division, WHO
Othoman Mellouk, Access to Diagnostics & Medicines Lead, ITPC Global
Yuan Qiong Hu, Senior Legal & Policy Advisor, Médecins Sans Frontières
Moderated by: Viviana Muñoz Téllez, South Centre
This is an in-person event for delegates and observers to the WIPO Assemblies.
VIRTUAL PARTICIPATION:
For A/64 participants, you will receive the zoom link by email.
For external participants, please register to ngomeeneme@southcentre.int to receive an individual link.
Image gallery of the event